SQ109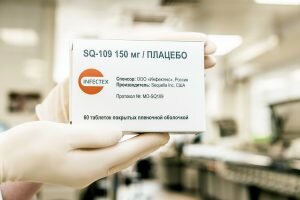 Product: SQ109 is a 1,2-ethylene diamine compound, some of which family are used in the first-line treatment of tuberculosis (ethambutol).
The therapeutic focus: pulmonary tuberculosis, including MDR forms; perspective focus – extrapulmonary and generalized tuberculosis, including genitourinary and nervous system tuberculosis, osseous-articular system, as well as tuberculosis of the lymph glands.
Status: Phase 2b-3 clinical trial, preparation of registration dossier
Partner: Sequella, Inc.
Description:
SQ109, basically developed by the biotechnology company Sequella, is a low-molecular ethylene diamine compound.
The drug has a unique multicomponent triple mechanism of action, including:
inhibition of mMpl3 – membrane transporter of Tregalose Monomycolate involved in cell wall synthesis of mycobacteria.
inhibition of enzymes involved in quinone biosynthesis MenA and MenG
affects respiration/electron transfer: acts as an uncoupler, collapsing Proton Motive Force (PMF): pH gradient (ΔpH) and membrane potential (ΔΨ) in bacterial systems, thereby reducing ATP synthesis
The results of preclinical studies and a series of early phase clinical studies, including in patients with pulmonary tuberculosis, have showed that the drug has a good safety and tolerability, which is important in the case of long-term combined treatment.
The preclinical studies have showed:
High efficiency against all forms tuberculosis (both sensitive and drug-resistant)
Activity against slowly vegetative forms (can be considered as latent tuberculosis)
Good pharmacokinetic parameters allowing to achieve target concentration during the treatment course
Reach maximal concentration in lung and lien cells in peroral administration
Shorten treatment time by 25% in in vivo experimental models
Synergistic effect with other anti-tuberculosis drugs (isoniazid, rifampin, bedakvilin).
Development:
At the present time the company is due to complete a phase 3 clinical study of the drug SQ109 and evaluate the efficacy of chemotherapy in patients with MDR pulmonary tuberculosis.